2019 Spanish Grand Prix – Qualifying
Location: Barcelona
Circuit de Barcelona-Catalunya
Session: Qualifying
The Spanish Grand Prix is a firm favourite – both with fans and drivers aline and I think it's safe to say that we're all waiting to see whether it'll be on the calendar for next year. The circuit manager actually said that it's 90% likely to return next year so – here's hoping!
Following pre-season testing, I've been wondering whether we'll see that pace from Ferrari here in Spain considering their speed but as of yet – Mercedes are the ones to beat. They've set the bar and it's time for everyone to up their game too.
Despite the performance from Mercedes – we still saw that the car wasn't entirely 'there'. The drivers did have to control the car round the corners – especially Hamilton so it's not an easy ride for Mercedes either.
This weekend, we've also been seeing a few upgrades to the cars – teams are now looking at other ways to update their cars, especially seen round the bargeboards.
Valtteri Bottas claimed pole with a great driver – it seems these last few races have given him such a boost of confidence and momentum. Despite this – there's a mutual respect between both drivers and this is nice to see.
Ferrari on the other hand aren't performing as they should – they're not where they should (or want to) be and they know it. They know they're on the back foot and it's just odd to see where their pre-season testing pace has gone…
In other teams – we're seeing a strong looking McLaren who are constantly developing and pushing. Both Sainz and Norris are doing well and it's great to see McLaren making it's way through the grid – slowly but surely.
Let's take a look and see what teams and drivers have to say following Qualifying.
Mercedes: 2019 Spanish Grand Prix – Qualifying
Valtteri Bottas: "This feels really good. In every run in Qualifying I found room for improvement, little bits here and there, and I managed to get everything together in Q3 and had a very strong first lap."
"I think the package we have brought to Barcelona is working very well and the car was very strong, especially in Sector 3. All the credit for that goes to the team, thank you to everyone back in Brackley and Brixworth."
"Our long run pace looked good on Friday, but a lot can happen on a Sunday. The start and Turn 1 will be particularly important. Tomorrow, Lewis and I both want to win, so I'm looking forward to a hard and fair fight."
Lewis Hamilton: "I wasn't quick enough today and wasn't able to extract the full potential from the car. I have been struggling with the car all weekend, so I will have to look into the details, figure out how I can improve my pace and keep working."
"Valtteri had a good qualifying session and did a great job, so he deserved pole. Our long-run pace looked good, so hopefully we should be strong tomorrow as well. My starts have been decent so far this year, so hopefully that will continue on Sunday as it's not that easy to overtake on this track."
Toto Wolff: "We've brought a number of upgrades to the car this weekend, so it's good to see that we've made a step in the right direction. Valtteri was in good form today and put in a very strong first lap in Q3 and deserves to be on pole."
"It was a bit of an unfortunate qualifying for Lewis; he couldn't charge the battery properly because he pitted in Q2 and therefore his first run in Q3 was compromised. None of the drivers improved in their second run, because the track temperature had dropped and there was some dirt on the track as well."
"It's good to start the race from the front row as it is difficult to overtake on this track. Our drivers both want to win, so I'm sure we'll see a fight at the start, but I'm convinced it will be a fair."
Red Bull Racing: 2019 Spanish Grand Prix – Qualifying
Max Verstappen: "I think we maximised qualifying today and I was very happy with how close we were to Seb and that I was able to split the Ferraris."
"The Mercedes cars, and especially Valtteri, were just too quick, but we recovered quite well and the car balance was a bit better than before. Of course, I would have liked to get a bit further to the front, and we still have to find some time but our pace in the long runs was good and in the race we're normally a bit more competitive so I'm positive. Mercedes are quick but I think we can fight for a podium."
Pierre Gasly: "Today was pretty positive, and it was a decent qualifying with P6. We knew after FP3 it would be tough and we thought Ferrari would make a bigger step in qualifying, but Max was just a tenth behind Vettel and I was around a tenth behind Charles, so we're a bit closer than we thought."
"For sure Mercedes are extremely quick but I think we have a decent car and hopefully we can take the fight to Ferrari tomorrow. It could be an interesting race with the option for a one-stop or two-stop, and anything can happen at this track where we know the start is really important, so we'll try to maximise that for tomorrow."
"There's still a lot of work to do, but overall things are getting better and I think the work we've been doing since the beginning of the year is starting to come together and pay off. Hopefully, tomorrow we can get some good points."
Ferrari: 2019 Spanish Grand Prix – Qualifying
Sebastian Vettel: "We are happy but we're not happy. By that, I mean that the car is well balanced and I think the updates we have brought have helped with the driveability of the car."
"However, it's obvious that we are still not where we want to be, because we are very quick down the straights, but we are losing too much time through the slower corners."
"The result of all that is that we are not in front and so we have to continue to work hard. Nevertheless, I think that having a well balanced car means we can have a good race, so I'm ready to give it my all tomorrow."
Charles Leclerc: "It is not the qualifying result we hoped for. We have been working on finding the right balance, especially with the new parts we have in place."
"Unfortunately, we were still a bit off today. I went wide in Q2 and some parts were damaged when I went over the kerb. The team did a great job and tried to fix the car during the session to let me continue driving. After the incident, the balance was different and we have to check our data to make sure we get our car back in shape for the race tomorrow."
"Our competitors are strong, but we remain confident of our potential and will do our best to catch them."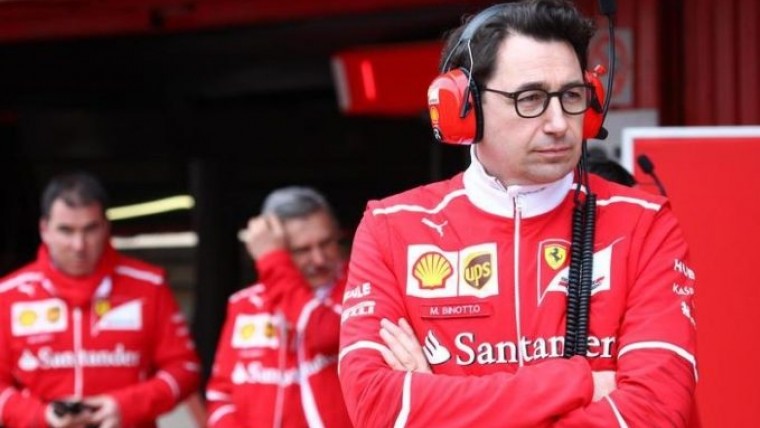 Mattia Binotto: "It was a difficult qualifying session, as indeed has been the whole weekend so far. In Charles' case, matters were further complicated when his car was damaged in Q2. We repaired it as best we could, but it still compromised his Q3 performance, as he had to attempt two timed laps on a single set of tyres."
"Having said that, this weekend has highlighted the weak points on our car. We will carry out all the necessary analysis, also after the race, to get a complete picture of where we are struggling. Days like this can show you how to improve and I am sure it will see us perform better tomorrow."
Renault: 2019 Spanish Grand Prix – Qualifying
Nico Hulkenberg: "I'm quite disappointed with myself about that. I made a mistake on the first run, touched the wall slightly and we had to change the front wing and we also suffered bargeboard damage. If you make mistakes, you pay for them."
"We could have made Q2 at a minimum today. We're lacking a bit of pace and harmony in the car at the moment. We'll give it our best tomorrow and aim for a better result."
Daniel Ricciardo: "We did a pretty good job to get into Q3 today. That was the target and I certainly felt after yesterday we had the potential to achieve that."
"We probably could have been slightly higher in the order for Q3 but I lost the rear out of Turn 13 on the second run and lost some time. That stopped it from being a really good session, but, in any case, it was a strong effort today."
"We have the penalty to add, but we'll get our heads down in the race and look for points."
McLaren: 2019 Spanish Grand Prix – Qualifying
Carlos Sainz: "Today was a tricky session and we still need to analyse why. We were looking good in quali until Q2. A snap in Turn 5 in my last attempt compromised my lap so I tried to recover in sector three, pushed too hard and did a mistake. That's it."
"I'm confident with our race pace and the weekend is not over yet, so we'll prepare thoroughly for tomorrow."
Lando Norris: "I'm pretty happy. I improved almost everywhere on my final push laps but maybe a small mistake cost me a couple of places and ultimately a place in Q3. We knew from yesterday quali wasn't going to be amazing but hopefully our race pace looks more promising."
"I'm looking forward to tomorrow with a free choice of tyres having qualified P11, but will move up one place due to penalties. Not a bad day but getting through to Q3 would have been better."
Lots more on the way tomorrow for race day so check back for all the latest F1 News!
The Formula 1 Girl – Formula 1 Blog & F1 News
x x